S. M. Engineers
» Automatic Air Brake Star Delta Starters
Automatic Air Brake Star Delta Starters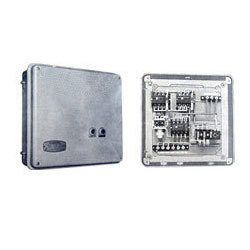 Backed by years of experience and industry knowledge, S. M. Engineers today is recognized manufacturers, suppliers in India of top quality automatic air break star delta starters type CSD/A for starting of squirrel cage induction motors. These comply to BSS 775 and BSS 587 and are suitable for 40 starts per hour. The product is offered at reasonable prices. They are manufactured at our manufacturing facility in Delhi which have all the latest equipment and machinery managed by a team of experts in the electrical field. All our products are known for their seamless performance, durability, customization and integrity even in toughest conditions.

Construction Air Brake Star Delta Starters
Totally enclosed, in a deep-drawn sheet metal casing, wall mounting type, suitably gasketted to make it dust proof

The entire starter assembly (which is mounted on a steel plate) can be taken out of the casing by removing four screws only.

Maintenance is facilitated by taking the interior out for repair while a spare interior can be inserted.

Rating:
The automatic star delta starters are ideal for controlling motors upto 40 HP at 400/440 volts or 500/550 volts

Adjustable Timer is incorporated for automatic changeover from Star to Delta.

Protection:
Are provided with magnetic type overload releases with an adjustable oil dashpot time lag device on all the three phases

The magnetic overload device, which works on the magnetic principle of current, is totally independent of the ambient temperature, provides a positive and direct protection to the motor

Non-aging properties inherent to the magnetic overload device ensures the same protection to the motor even after years of service

Can also be fitted with thermal type bi-metallic overload releases with temperature compensation devices

The overload device is of the Hand-Resetting type which is an essential feature where remote control is required.

The under voltage protection is inherent

Control:
Start and Stop/Reset Push Buttons are provided on the front cover

Remote control terminals are also provided for remote operation by means of limit switch, float switch, pressure switch or a separate push button unit.

Isolator:
A rotary type triple pole air break isolating switch can be provided on starters, the operation of which is interlocked with the lid of the starter

Ensures that the starter lid cannot be opened till the isolator is in the OFF position.

Cable arrangements:
Units are provided with entries for conduit connections

Sealing boxes can be provided for underground paper-insulated cables.

Earthing:
Double earthing terminals are provided.

Timer:
Special current activated change-over Timer ensures transition from Star to Delta at approximately the rated current of the motor only, irrespective of the transition time which depends on the drive

This leads to no wear on the contacts due to transition kicks.

©
Copyright
2017. S. M. Engineers, Delhi, India