S. M. Engineers
» Oil Immersed Stator Rotor Starters
Oil Immersed Stator Rotor Starters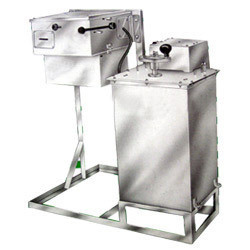 We are leading manufacturers and suppliers of Oil Immersed Stator Rotor Starters in India that are designed for use on Voltages up to 550 Volts. H.P. 330 HP. These electrical starters comprise of separate Stator Controlling OCB and Rotor Controller mounted on the same base frame made of galvanized steel making it durable and efficient in working. We offer these at very affordable prices.


Operating Mechanism Stator Rotor Starters
Is interlocked with Rotor Controller and the OCB cannot be switched ON until and unless the full external resistances are inserted in the circuit

The Rotor Controller and OCB are connected strictly as per the circuit diagram

The OCB is closed by putting the handle to "ON" position

The push button provided with the Rotor Controllers is kept pressed till the resistance cutting "wheel" of the Rotor Controller is rotated to full "ON" position.

Contacts :

The Stator Controlling OCB's are provided with heavy type copper contacts to ensure a trouble free life

The contacts are made from hard drawn electrolytic copper strips

Each unit is provided with two sets of contacts : arcing contact and main contact

The arcing contacts make before and break after the main contacts, thus confining burning to the arcing contacts

The main contact scarcely calls for replacement where as the arcing contact can be replaced very easily

Protection:
Overload Protection - is of magnetic type with oil dash pot time lag arrangement in all three phases.

Under Voltage Protection - is provided by a closing type solenoid coil.

Accessories:
Are generally provided with incoming and outgoing cable entry plates

Cable boxes for paper insulated cables, fully interlocked isolator and ammeter can also be provided, on request

Rotor Controller:
Is designed to comply with latest IS for use in Rotor Circuit of A.C. Slipring Motor

Adequately rated resistance wires are selected as per the current at various steps and are robust in design

The Rotor resistance is based on the Rotor Volts and Rotor Amps of the Motor

The cutting off resistances are achieved by the rotation of CAM operated "wheel" and this provides smooth starting of the motor.

Special Features:

Foolproof interlocks are provided in the Starter as per the following :

The Motor can be started only when full Rotor resistance is in the Rotor Circuit. Otherwise the Stator controlling OCB will not close.

The motor cannot be left running with rotor resistance in the circuit. If by any chance the rotor resistance is left in the circuit the starter will trip no sooner the push button on the rotor controller is released.

©
Copyright
2017. S. M. Engineers, Delhi, India